Kim Hyun Joong (born June 6, 1986) is a South Korean actor and singer. He is the leader of popular boyband SS501 and a prominent style icon in Korea, winning multiple icon awards. He gained widespread popularity beyond Asia for his role as Yoon Ji Hoo in the 2009 hit drama series Boys Over Flowers and is now known worldwide as the perfect Baek Seung Jo in the hit series drama Mischievous/Playful Kiss.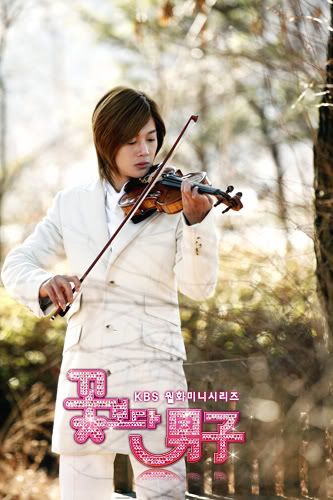 Debuting as the leader of SS501 in 2005. They also appeared in "Thank You For Waking Me Up" where he was proven to be a heavy sleeper,"Thank You For Raising Me Up" in 2006 and MNet's "Idol World" in 2007, which showed SS501 doing various missions in Japan.He joined the cast of MBC variety reality show We Got Married on May 11, 2008, with Hwang Bo, who is 6 years older than him. They achieved high popularity acting as a newlywed couple. Due to his appearance on We Got Married, he was cast in the Korean version of Hana Yori Dango as one of the
members of the famous F4. Known as the "Lettuce Couple", Hyun Joong and Hwang Bo went on to win MBC's Best Couple Award. The couple made their official exit from We Got Married on December 14, 2008 due to scheduling conflicts presented by Boys Over Flowers. His latest TV drama is "Playful/Naughty Kiss" with Jung So Min.
In the hit drama series, Boys Over Flowers, he plays Yoon Ji Hoo. The series was a huge media and ratings sensation in Korea during its run from January to March 2009, garnering a huge amount of popularity for the entertainer. The series was not only a hit in Korea, but all around Asia as well. This includes Taiwan, Nepal and the Southeast Asian countries of Singapore, Vietnam, Malaysia, Philippines, amongst others as well as in Japan and in North America where it was released on DVD with English subtitles.
Not long after him and SS501 members released their album "SS501 Collection," where they each sang a solo song, along with being featured in their mini drama music video.Their Asia Concert Tour began in mid-August 2009 in Seoul at the Olympic Park. They continued their tour in Shanghai, Taipei, Bangkok before returning to Seoul for a closing encore concert. They staged two concerts for the encore closure on the 27th Feb and 28th Feb 2010 respectively.
On September 2009, during promotions in Japan for Boys Over Flowers, Kim Hyun Joong was diagnosed with H1N1.While recovering from H1N1, he could not attend Seoul's International Drama Awards. To accept the award on his behalf, his members of SS501, Heo Young Saeng, Kim Kyu Jong, and Kim Hyung Jun were present for the award show. He recovered from H1N1 and was discharged on September 15, 2009.
On October 23, 2009 Kim Hyun Joong and SS501 released their album "Rebirth," and performed "Love Like This."He has also been the spokesperson for cosmetics brand, Tony Moly, an established company with numerous branches across Korea and Asia, including Taiwan and Hong Kong. He had since ended his contract with Tony Moly in End September 2010, and he had been chosen to be the Spokesperson for The Face Shop.In April 2010, he appeared opposite Jung Ryeo Won in the music video for Korean Singer Gummy's new song As A Man .
In June 2010, him and his band mates of SS501 released an album titled 'Destination'(Produced by Steven Lee). Their title song 'Love Ya' was received well, rating high in record sales and online music stores. 'Love Ya' went on to top Music Bank (TV series)'s K-Chart for two weeks. Doing great for two weeks was all they could have though, they soon ended promotions, because of SS501's contract was ending.On June 19, 2010, he then appeared at a concert in the Philippines along side BEASTOn June 28, 2010, It was officially announced that Kim Hyun Joong officially left DSP Entertainment and signed a contract with Bae Yong Joon's KeyEast Entertainment company.