Tila Nguyen(born October 24, 1981), better known by her stage names Tila Tequila and Miss Tila,Nguyen was born in Singapore, where her family emigrated from Vietnam after the Vietnam War. Her mother is half French descent, while her father is full Vietnamese. Her siblings are Daniel and Terri.When she was one year old, she and her family lived in a neighborhood in Houston until they were admitted to a gated community run by a strict Buddhist temple.The family left the community when Nguyen was eight.
Nguyen's career began at the age of 18 when she was discovered at the Sharpstown Mall by a Playboy scout and was offered a chance to model nude for the magazine. She did a test shoot, then eventually moved to Southern California and was featured as Playboy's Cyber Girl of the week on April 22, 2002, and soon thereafter she became the first Asian Cyber Girl of the Month.A few more pictorials for the magazine followed.Nguyen gained further popularity through the import racing scene. She has been featured on the cover of Import Tuner magazine, at car shows such as Hot Import Nights, and in the video game Street Racing Syndicate.She was also the most frequent host on the first season of Fuse TV's dance show, Pants-Off Dance-Off, on which a group of contestants strip to music videos.
In May 2007, Nguyen began filming for a reality show which first aired on MTV on October 9, 2007, as A Shot at Love with Tila Tequila. The program is a bisexual-themed dating show where 16 straight men and 16 lesbian women compete for Nguyen's affections, the twist being that the contestants were not aware of her bisexualityuntil the end of the first episode. The ten-episode series is produced by SallyAnn Salsano and MTV.The show led to a heated online debate between Nguyen and conservative Christians after an article appeared on The Christian Post on September 13, 2007.After seeing the article, Nguyen wrote an impassioned response in her blog on September 28, 2007, criticizing churches for "bashing" the gay community while thanking God for saving her life.
In July 2001, Nguyen started up her website entitled "Tila's Hot Spot".Originally the site featured information, quotes, blog, and pictorialsrequiring adult verification and a monthly fee.Later, the site was revamped to feature all-ages content and information to promote her career, business ventures, personal information, and a premium membership section including videos, non-nude picture galleries, blogs, and chat sessions.In 2008 the site was transformed into a social network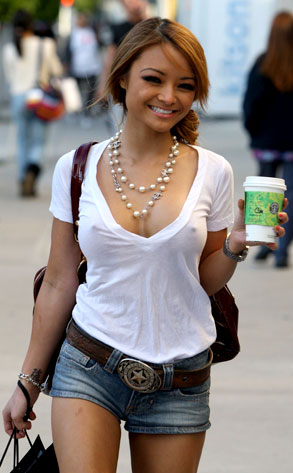 At age 20, Nguyen acted on her interest in rock music and started looking for bands willing to let her join. She eventually assembled a band called Beyond Betty Jean, for which she was singer and songwriter. Following the breakup of Beyond Betty Jean, Nguyen started working in recording studios to sharpen her vocal skills and wrote music.Later, she became the lead singer of a band called Jealousy, which released a few songs online before breaking up. Around this time, she began to employ the stage name of "Tila Tequila".In April 2006 during the taping of an interview with MTV's Total Request Live VJs, will.i.am announced that Nguyen had been signed to the Will.I.Am music group, a record label under A&M Records. Despite this major-label signing, Nguyen independently released her first single "I Love U" through iTunes on February 27, 2007, justifying the independent release through her desire to become famous by herself.She also shot a music video for the song.
Nguyen has started her own record label called "Tila Tequila Records", and recently signed Raz-B of B2K.Apart from her record label, Nguyen has also started a management firm called "Little Miss Trendsetter Management LLC".
On September 6, 2009, Nguyen was allegedly choked and restrained by former boyfriend Shawne Merriman, who was later arrested.San Diego district attorney Bonnie Dumanis decided not to charge Merriman after her office spent three days reviewing reports from the San Diego County Sheriff's Department.On November 17, 2009, Nguyen sued Merriman for $1.5 million.Several weeks later, Merriman countersued, alleging intentional interference with contract, unfair competition, and trademark infringement.She declined to respond to his more recent actions, and a default judgment was entered in his favor for $2 million.In November 2009, Nguyen announced on Twitter that she is a lesbian, rather than bisexual, as she had previously proclaimed herself to be.