Ryōsuke Yamada (born 9 May 1993 in Tokyo) is a Japanese tarento, actor, singer, dancer, and a member of Hey! Say! JUMP.He is under the management of Johnny & Associates and currently resides in Kanagawa Prefecture.
On 12 August 2004, when he was in the 5th grade (age 11), Yamada appeared on the variety show Ya-ya-yah, where his audition for Johnny and Associates was aired.In July 2006, Yamada got his first role in a TV drama, Tantei Gakuen Q Special.
In April 2007, he was chosen to be a member of the temporary unit Hey! Say! 7, which made his CD debut on August 1, when their single "Hey! Say!" was released. Between July and September of 2007, Tantei Gakuen Q became a TV drama series and Yamada played the same role he did in the Special that aired in 2006.From 24 September 2007, Yamada began performing as a member of Hey! Say! JUMP, making his debut on 14 November .
From January to March 2008 Yamada was in the drama series, One-Pound Gospel, as Mukoda Katsumi, with Kazuya Kamenashi (KAT-TUN) and Hey! Say! JUMP member Yuri Chinen who appeared in the third episode. On 12 April of that year Yamada was in the drama, Sensei wa erai! along with fellow Hey! Say! JUMP members Yuto Nakajima, Yuri Chinen and Daiki Arioka. He played Gunjou Hayato. On June 14, Yamada played Furuhata Ninzaburo in the drama Furuhata Chuugakusei.In October 2008, Yamada was in the drama series Scrap Teacher: Kyoushi Saisei as Takasugi Toichi, along with Hey! Say! JUMP members that appeared with him in Sensei wa erai!.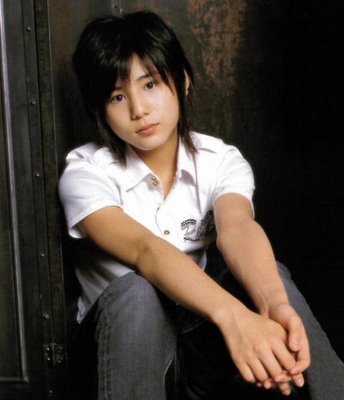 In June 2009, Yamada became the leader of a temporary group NYC Boys with Yuri Chinen and Yuma Nakayama w/B.I.Shadow as a supporter for the Japanese Volleyball Team for the FIVB World Grand Prix 2009. Their single "NYC/Akuma na Koi" hit the 1 position on the billboard charts.On 29 August of that year, Yamada played Yuji Kawai in the drama Niini no koto Wasurenaide.On 3 October 2009, he starred as the lead role in Hidarime Tantei EYE SP playing the role of Ainosuke Tanaka.On 17October 2009, it was announced that Hey! Say! JUMP member Yamada Ryosuke will play his first lead role in the upcoming drama series Hidari-me Tantei EYE to be broadcast from January 2010.
Yamada Ryosuke so Cute in This Pose
On March 2, 2010, an official press release made by Johnny and Associates revealed that Yamada and Chinen will be debuting for the second time as NYC. They will be working as a member of both Hey! Say! JUMP and NYC, which is a rarity in their talent agency. Ryo Nishikido was the first such case of a Johnny's talent officially debuting in two groups (Kanjani8 and NEWS) making Yamada and Chinen the second instance of such a case.In 2010, Yamada wrote a song called Shinku which was track 4 in Hey! Say! JUMP's first album Jump No. 1.