Jessica Ann Simpson
(born July 10, 1980) is an American singer, actress, television personality and fashion designer whose rise to fame began in 1999. Since that time, Simpson has achieved many recording milestones, starred in several television shows, movies, and commercials, launched a line of hair and beauty products, and designed fragrances, shoes, and handbags for women. She has devoted time to philanthropic efforts including Operation Smile and a USO-hosted tour for troops stationed overseas.
Discography
*Sweet Kisses (1999)
*Irresistible (2001)
*In This Skin (2003)
*Rejoyce: The Christmas Album (2004)
*A Public Affair (2006)
*Do You Know (2008)
*Happy Christmas (2010)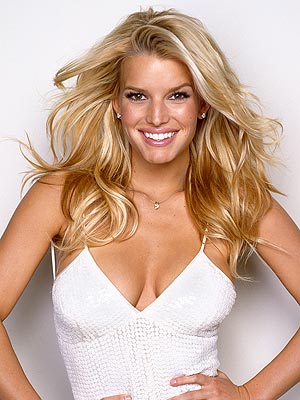 She has achieved seven Billboard Top 40 hits, three gold and two multi-platinum Recording Industry Association of America (RIAA) certified studio albums, four of which have reached the top 10 on the US Billboard 200.Simpson starred with her then-husband Nick Lachey in the MTV reality show Newlyweds: Nick and Jessica. She ventured into the country music market in 2008 and released Do You Know.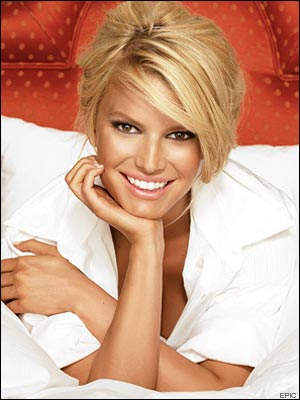 Filmography
(2002) The Master of Disguise
(2005) The Dukes of Hazzard
(2006) Employee of the Month
(2007) Blonde Ambition
(2008) The Love Guru Herself
(2008) Private Valentine: Blonde & Dangerous
Simpson has a total of records sales in Australia of more than 426,000 copies and was ranked No. 113 on the 1000 artists chart of Australian Recording Industry Association (ARIA) Music Decade Charts (1980–2010).In 2009, Billboard named Simpson as the 95th overall best Artists of the Decade.Simpson also was ranked at number 86 on Billboard 200 Artists, based on album sales.
Simpson received increased publicity following her divorce, reportedly having romances with her Employee of the Month co-star Dane Cook and Maroon 5 frontman Adam Levine.Simpson also had an off-and-on relationship with musician John Mayer. Dating rumors started in August 2006 with a People magazine article, but kicked into high gear when Simpson and Mayer spent the New Year holiday together in New York City, both attending Christina Aguilera's New Year's Eve 2006 party.The couple eventually parted ways for good in May 2007.
In November 2007, Simpson began dating Dallas Cowboys quarterback Tony Romo. The relationship was controversial among some Dallas Cowboys fans, as she was blamed when Romo had poor football performances. Some of the Cowboys' fans gave her the nickname "Yoko Romo" in comparison to Yoko Ono, who many Beatles fans blame for "ruining" John Lennon.
"If only Tony had called me and said, 'Terry, Jessica [Simpson] and I are going to go to Mexico,' I would've told him: 'You crazy? Don't do that! The paparazzi is going to find you, man. You're a star. She's a star. It's just going to happen,' " Bradshaw said in an interview with the Fort Worth Star-Telegram.
Even President Bush jokingly endorsed the "Jessica jinx" after the Giants went on to win the Super Bowl in 2008. During the traditional White House reception for the winning team, the president quipped, "We're going to send Jessica Simpson to the Democrat National Convention."
On July 13, 2009, People magazine reported that Romo and Simpson had ended their relationship.In May 2010, Simpson began dating former NFL player Eric Johnson,who had separated from his wife Keri Johnson in October 2009 after five years of marriage. Johnson's divorce was finalized on October 7, 2010.On November 14, 2010, Simpson announced her engagement to Johnson.
Simpson released her first single,

"I Wanna Love You Forever"

, which peaked at number 3 on the Billboard Hot 100 in 1999, and reached the top ten in ten countries.[11] Soon afterwards, her major label debut album Sweet Kisses was released. To support the album, Simpson toured with Ricky Martin and with boy band 98 Degrees.
Meanwhile, Simpson's album Sweet Kisses had gone double platinum, helped by the follow-up singles "Where You Are" and

"I Think I'm In Love With You"

, which were both released in 2000. The latter became Simpson's biggest radio hit at that point, and was her first release of an uptempo single. Her debut album sold 2 million copies in US. Columbia Records officials reportedly decided Simpson needed a change for her second album. The following year, when Simpson came to record her second album, executives pressured her to have a much more sexy image.
Jessica Simpson Singing and interview