Owen Cunningham Wilson (born November 18, 1968) is an American actor and writer, known for his roles in the films The Royal Tenenbaums, Zoolander, Meet the Parents, Wedding Crashers, You, Me and Dupree, Bottle Rocket, the Cars series, The Darjeeling Limited, Marley & Me and Midnight in Paris.
Wilson was born in Dallas, to photographer Laura Cunningham Wilson and Robert Andrew Wilson, an advertising executive and operator of a public television station. He has an older brother, Andrew, and a younger brother, Luke, both also involved in filmmaking. His family, originally from Massachusetts, is Irish American and Roman Catholic.
Wilson debuted as an actor in the role of "Dignan" in the Wes Anderson film Bottle Rocket, which he co-wrote with Anderson. He also worked with Anderson as a creative collaborator on his next two directorial efforts, Rushmore and The Royal Tenenbaums, for which they were nominated for an Oscar for Best Original Screenplay.
Wilson subsequently landed a role in The Cable Guy, directed by Ben Stiller, an early admirer of Bottle Rocket. After minor appearances in action films like Anaconda, Armageddon and The Haunting, Wilson appeared in two dramatic roles: supporting actor in Permanent Midnight, which starred Stiller as a drug-addicted TV writer; and the lead role as a serial killer in The Minus Man, in which future girlfriend, singer Sheryl Crow was a co-star. He also made a cameo in the Girl Skateboards video Yeah Right! in 2003.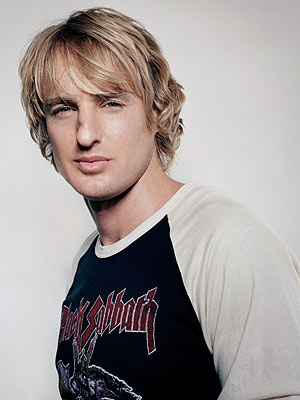 Wilson got his big break with the 2000 comedy action hit Shanghai Noon, starring opposite Hong Kong action star Jackie Chan. The film grossed nearly US$100 million worldwide. His fame continued to rise after starring alongside Ben Stiller and Will Ferrell in the 2001 film Zoolander.
Gene Hackman took notice of Wilson's performance in Shanghai Noon and recommended Wilson to co-star in the 2001 action film Behind Enemy Lines. Also in 2001, Wilson and Anderson collaborated on their third film, The Royal Tenenbaums, which was a financial and critical success. The comedy featured an all-star cast, including Gene Hackman, Ben Stiller, Bill Murray, Anjelica Huston, Gwyneth Paltrow, Danny Glover, Seymour Cassel and brother Luke. Owen Wilson had a memorable supporting role in the film as Eli Cash, a drug-addled bon vivant who becomes a literary celebrity. It earned the writing team an Academy Award nomination for Best Original Screenplay.
Wilson returned to the buddy-comedy genre in 2002 with the action comedy I Spy, co-starring Eddie Murphy. This big-screen remake of the television series flopped at the box office. He then reunited with Chan to make Shanghai Knights (2003) and the film remake of the television series Starsky & Hutch (2004). Due to his busy schedule as an actor and an ongoing sinus condition, Wilson was unavailable to collaborate on the script for Wes Anderson's fourth feature, The Life Aquatic with Steve Zissou. The 2004 film was ultimately co-written by filmmaker Noah Baumbach. However, Wilson did star in the film as Bill Murray's would-be son, Ned Plimpton; a role written specifically for Wilson.In 2004 Wilson worked with his brother Luke Wilson in the 2004 film Around the World in 80 Days as the Wright brothers.
Wilson partnered with Vince Vaughn in the 2005 Wedding Crashers which grossed over $200 million in the US alone. Also in 2005, Owen collaborated with his brothers by appearing in The Wendell Baker Story, written by brother Luke, directed by Luke and brother Andrew.In 2006, Wilson provided the voice of Lightning McQueen in the Disney/Pixar film Cars, starred in You, Me and Dupree with Kate Hudson, and appeared with Stiller in Night at the Museum as Jedediah, the cowboy, an uncredited role.