Super Junior-M, often referred to as SJ-M, is the third official sub-unit of Korean boy band Super Junior. They are the first international music group in the Chinese music industry to have members of both Chinese and Korean descent,and are also the first group produced by Korea's CT (Culture Technology) organization, created through a comprehensive localization strategy.Super Junior-M made their debut in 2008, with five Super Junior members: Han Geng, Siwon, Donghae, Ryeowook and Kyuhyun as well as two new ethnic Chinese members, Henry and Zhou Mi.
In December 2009, Han Geng returned to China to pursue a solo career and the group's activities were halted.In December 21, 2010 the Seoul Central District Court ruled in favor of Han Geng. A representative of SM Entertainment said that they will file an immediate appeal to reverse the decisionSM Entertainment have yet to release statements regarding his official status with the group.
In February 2011, Super Junior members Sungmin and Eunhyuk were announced as new additions to the SJ-M subgroup, coinciding with the release of their 2nd Mini Album, 太完美 (Perfection). Currently, the eight active members are: Siwon, Ryeowook, Donghae, Eunhyuk, Kyuhyun, Sungmin, Zhou Mi and Henry.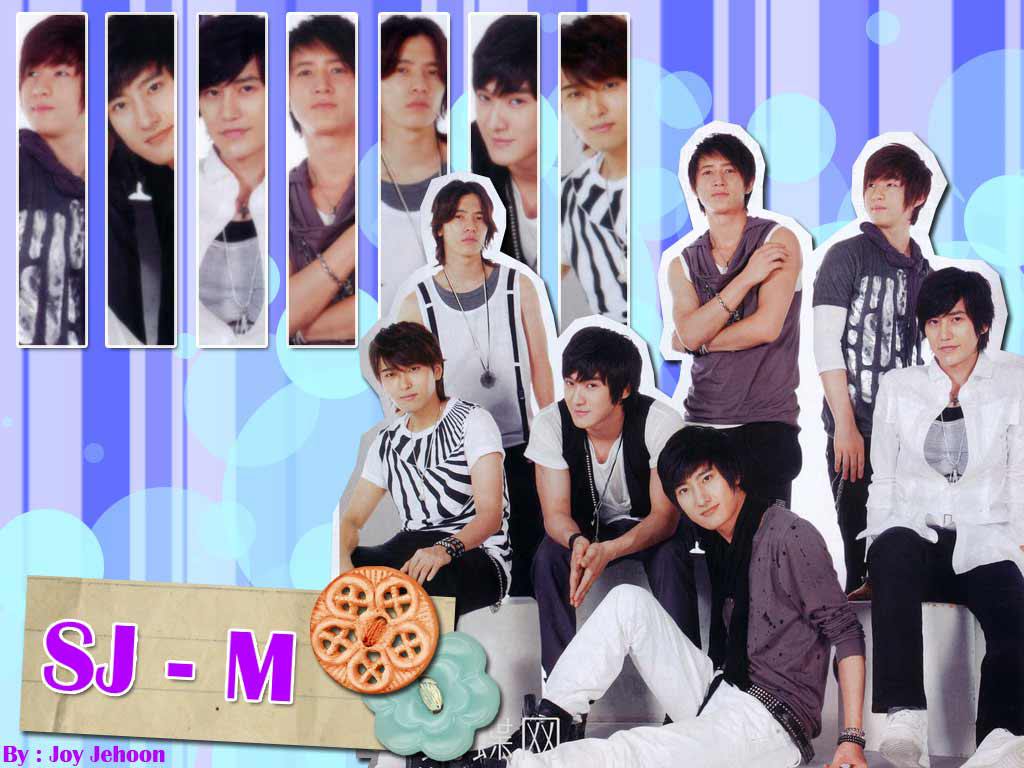 Before the official name of the subgroup was released, they were often referred to as Super Junior China. On April 3, 2008, SM Entertainment released the official name of the subgroup, Super Junior-M, with "M" representing the word "Mandarin," expressing the subgroup's ambition to become successful in the Chinese music market not limited to only China.The "M" can also represent a list of other aspects, such as the first letter of their debut album, Me, and also "mi" (Chinese: 迷), which denotes to "charismatic" as well as "fan" in Mandarin, the latter meaning referring to their desire to connect closer with fans.
Super Junior-M debuted in China on April 8, 2008 at the 8th Annual Music Chart Awards and with the release of their first music video, "U" online.Their debut album was released in various provinces in China starting April 23, 2008 and the Korean version with three bonus Korean tracks was released in South Korea on April 30, 2008. The album was also distributed in several other Chinese communities on May 2, 2008 such as Hong Kong, Singapore and Taiwan.Reviews for the album were generally positive and it also gained praise from Hong Kong singer, Hins Cheung, who said the album contains "international-level music" and that the group is "vocally-talented".[14] A month after their debut, Super Junior-M won their first award, Asia's Most Popular New Group Award, at the 5th annual Music King Awards in Macau on May 25.[15]
After their debut performance in early April 2008, the group made guest appearances in many chains of entertainment variety shows. They appeared in an episode of the second season of TVB and HunanTV's collaboration show, Strictly Come Dancing (舞动奇迹), which made the show's ratings increase to 5.01%, ranking it the third most watched show ever in all of China.Super Junior-M's appearance in the talk show, Behind Story (背后的故事) two months later also increased ratings. The show had the highest ratings during that time slot, with a strong 4.05%.Separated into several weekly episodes, the group's appearance in their first episode on the challenging game show, Bravely Going Forward (勇往直前) in early August gave the show the highest ratings during that time slot as well.
On September 14, 2009, Super Junior-M released the music video for their upcoming comeback single Super Girl which features Girls' Generation's Jessica Jung. They are currently nominated for Best Singing Group at the 21st Golden Melody Awards.