Top
Film
Box
Office
2011


--------------------------------------------------------


The Green Hornet
is a 2011 superhero action-comedy film, based on the character of the same name that had originated in a 1930s radio program and has appeared in movie serials, a television series, comic books, and other media. Directed by Michel Gondry, the film stars Seth Rogen, Jay Chou, Christoph Waltz and Cameron Diaz.The film was released in North America on
January 14, 2011
, in versions including RealD Cinema and IMAX 3D.
Britt Reid (Seth Rogen) is the irresponsible, 28-year-old slacker son of widower James Reid (Tom Wilkinson), publisher of the Los Angeles newspaper The Daily Sentinel. Britt's attitude changes when James is found dead from an allergic reaction to a bee sting. After the funeral, Britt fires the staff aside from his maid, but later re-hires Kato (Jay Chou), James' mechanic and a skilled martial artist.
Britt and Kato get drunk together and, upon agreeing that they both hated James, visit the graveyard to cut the head off James' memorial statue. After they succeed, they rescue a nearby couple being mugged. When police mistake Britt and Kato themselves for criminals, Kato evades them in a car chase as he and Britt return to the mansion.
Britt convinces Kato they should become crime-fighters who pose as criminals in order to infiltrate real criminals, and to prevent enemies from using innocents against them. Kato develops a car outfitted with several gadgets and weapons, which they call the Black Beauty. Britt plans to capture Benjamin Chudnofsky (Christoph Waltz), a Russian mobster uniting the criminal families of Los Angeles under his command, and whom his father was trying to expose. To get Chudnofsky's attention, Britt uses the Daily Sentinel as a vehicle to publish articles about the "high-profile criminal" the Green Hornet.Britt hires Lenore Case (Cameron Diaz), who has a degree in criminology, as his assistant and researcher, and uses her unwitting advice to raise the Green Hornet's profile. Britt and Kato blow up several of Chudnofsky's meth labs, leaving calling cards so Chudnofsky can contact them. Throughout all this, Daily Sentinel managing editor Mike Axford (Edward James Olmos) fears this single-minded coverage will endanger Britt's life, and District Attorney Frank Scanlon (David Harbour) frets over public perception that he cannot stop the Green Hornet.
Britt asks Lenore out, but she rebuffs him and instead invites Kato to dinner, making Britt jealous. Kato learns from her that mobsters often offer a peace summit to rivals in order to get close enough to kill them; Britt then tells Kato that Chudnofsky has offered them such a meeting. Kato tries dissuading him, but Britt, feeling overshadowed, follows his instincts. This nearly proves fatal when Chudnofsky tries to kill them.Barely escaping to the mansion, Britt and Kato argue and fight, and Britt fires both Kato and Lenore, whom he believes are in a relationship. Kato receives an email from Chudnofsky on the Hornet's calling-card email address, offering $1 million dollars and half of Los Angeles if he kills Britt. Meanwhile, Britt discovers Scanlon is corrupt, learning that he tried to bribe James into downplaying the city's level of crime in order to help his career.Scanlon invites Britt to meet in a restaurant, where he reveals he murdered Britt's father. Kato arrives, and instead of killing Britt attacks Chudnofsky's men, allowing him and Britt, whom Chudnofsky deduces is the real Green Hornet, to escape. At Daily Sentinel, Britt intends to upload a recording of Scanlon's confession onto the Web — and belatedly discovers he did not manage to record it. Chudnofsky and his men, who followed the duo there, engage them in a firefight. Kato ultimately stabs Chudnofsky in self-defense and Britt shoots him to death. A SWAT team appears and fires at the Green Hornet and Kato, who use the remains of their nearly demolished Black Beauty to run Scanlon out the 10th-floor window, killing him. The Green Hornet and Kato flee to Lenore's house, where she learns their secret identities and that she has been the accidental mastermind behind the Green Hornet's plots. Despite being furious, she helps them hide from the police and tends to Britt's shoulder gunshot wound.
The next morning, Britt promotes Axford to editor-in-chief and stages being shot in the shoulder by Kato, further establishing the Green Hornet as a threat (and allowing Britt to get treated by professionals in a hospital). Later, the two weld James' stolen bust back onto his memorial statue. Now with Lenore to aid them, Britt and Kato vow to continue protecting the law by breaking it.
------------------------------------------------------------------------------------------------------------------
Fast & Furious 5
is a 2011 action film written by Chris Morgan and directed by Justin Lin and the fifth installment in The Fast and the Furious franchise. The film stars Vin Diesel, Paul Walker, Jordana Brewster and Dwayne Johnson and was first released in Australia on April 20, 2011 followed by a United States release on
April 29, 2011
.
Fast Five follows Brian O'Conner (Walker), Dominic Toretto (Diesel) and Mia Toretto (Brewster) as they plan a heist to steal $100 million from corrupt businessman Hernan Reyes (Joaquim de Almeida) while being pursued for arrest by U.S. DSS agent Luke Hobbs (Johnson).
For development of Fast Five, a conscious effort was made by Universal Studios to shift away from the street racing theme prevalent in previous films in the series. Emphasis was instead placed on transforming the franchise into a heist action series that utilized cars in an attempt to attract wider audiences that may otherwise be turned off by the series' focus on cars and car culture. Fast Five is considered the transitional film in the series, featuring only one car race with more attention given to action set-pieces such as gun fights, brawls and the heist of $100 million.
Following its release, Fast Five garnered critical praise, becoming the highest rated entry in the franchise, and financial gain, breaking box office records to become the highest grossing opening weekend in an April and the second highest opening weekend in Spring, earning $168 million. The film surpassed Fast & Furious (2009) to become the highest grossing film in the franchise and overtook Rio to become the highest grossing film of 2011, holding this title for fifteen days before being replaced by Pirates of the Caribbean: On Stranger Tides. As of July 29, 2011, Fast Five has grossed over $600 million worldwide, placing it #61 on the list of highest-grossing films of all time worldwide – in unadjusted dollars.
Fast Five received a positive critical reception upon release with several critics praising the combination of "action sequences that toy idly with the laws of physics" with comedy; some labeling the film the "best" of the series. Praise was also directed towards Johnson for his role in the film, with critics calling him "the best thing, by far, in Fast Five...Dwayne Johnson" and remarking that scenes shared by Johnson and Diesel were often the "best moments".Despite the positive response, many were critical of the films running time, considering it too long and others criticized the treatment of women, stating "[Females] cameo strikingly in buttock form. Others actually have first names" South American reviewers were critical of the film's portrayal of Rio de Janeiro as a haven for drug trafficking and corruption, calling it a "stereotype"
When Dominic "Dom" Toretto (Vin Diesel) is being transported to Lompoc prison by bus, his sister Mia Toretto (Jordana Brewster) and friend Brian O'Conner (Paul Walker) lead an assault on the bus, causing it to crash, freeing Dom. While authorities search for them, the trio escape to Rio de Janeiro. Awaiting Dom's arrival, Mia and Brian join their friend Vince (Matt Schulze) and other participants on a job to steal three cars from a train. While aboard the train, Brian and Mia discover the train is carrying DEA agents and that the cars are seized property. When Dom arrives with the rest of the participants, he realizes that one of them, Zizi (Michael Irby), is only interested in stealing one car – a Ford GT40. Dom has Mia steal the car herself while Dom and Brian fight Zizi and his henchmen, with Zizi killing the DEA agents assigned to the vehicles. Dom and Brian are captured and brought to crime lord – and owner of the cars – Hernan Reyes (Joaquim de Almeida), Zizi's boss where he orders the pair be interrogated to discover the location of the car. However they manage to escape and retreat to their safehouse.While Brian, Dom, and Mia examine the car to discover its importance, Vince arrives and is caught trying to remove a computer chip from the car, admitting that he was planning to sell it to Reyes on his own. Dom forces Vince to leave and after investigating the chip, Brian discovers it contains details of Reyes' criminal empire including the locations of $100 million in cash. Following the murder of the DEA agents aboard the train, blamed on Dom and his team, U.S. Diplomatic Security Service (DSS) agent Luke Hobbs (Dwayne Johnson) and his team arrive in Rio to capture Dom and Brian. They travel to Dom's safehouse with assistance from local officer Elena Neves (Elsa Pataky), but find it under assault by Reyes' men. Brian, Dom and Mia escape with Dom suggesting they split up and leave Rio, but Mia announces she is pregnant with Brian's child. Dom agrees to stick together and suggests they steal Reyes' money to start a new life. The trio organizes a team to perform the heist, recruiting Han Lue (Sung Kang), Roman Pearce (Tyrese Gibson), Tej Parker (Ludacris), Gisele Harabo (Gal Gadot), Tego Leo (Tego Calderón) and Rico Santos (Don Omar). Vince later joins the team after saving Mia from being captured by Reyes' men, earning Dom's trust once more.
Hobbs and his team eventually find and arrest Dom, Mia, Brian and Vince. While transporting them to the airport for extradition to the United States, the convoy is attacked by Reyes' men, killing Hobbs' team and Vince. Hobbs is saved by Dom, Brian and Mia as they fight back against Reyes' men and escape. Wanting revenge for his murdered team, Hobbs and Elena agree to help with the heist. The gang breaks into the police station where Reyes' money is kept and tear the vault from the building using their cars, dragging it through the city with police in pursuit. Believing they cannot outrun the police, Dom makes Brian continue without him while he attacks the police and the pursuing Reyes, using the vault attached to his car to smash their vehicles. Brian returns to kill Zizi, while Reyes is badly injured by Dom's assault. Hobbs arrives on the scene and executes Reyes. Hobbs refuses to let the pair go free, but unwilling to arrest them, agrees to give them a 24-hour head start to escape. The gang split Reyes' money, with Dom leaving Vince's share to his family, before the members go their separate ways.In the South Pacific, Brian and Mia, now visibly pregnant, relax on a beach, where they are met by Dom and Elena. Brian challenges Dom to a final, no-stakes race to prove who is the better driver.In a post-credits scene, Hobbs is given a file by FBI agent Monica Fuentes (Eva Mendes) concerning the hijack of a military convoy in Berlin. In the file, Hobbs discovers a recent photo of Leticia Ortiz (Michelle Rodriguez), Dom's presumed-deceased girlfriend, implying that she survived the events of Fast & Furious.
------------------------------------------------------------------------------------------------------------------
Kung Fu Panda 2
is a 2011 3D American computer-animated action comedy-drama film produced by DreamWorks Animation and distributed by Paramount Pictures. It is the sequel to the 2008 film Kung Fu Panda. The cast of the original film reprised their voice roles while the new villain is voiced by Gary Oldman. The film was released on
May 26, 2011
in Real D 3D and Digital 3D. The film opened to positive reception and became an international success.
Long ago, the heir of the peacock clan that ruled Gongmen City in China, sought to bring happiness to the land with fireworks, until their son, Lord Shen (Gary Oldmen) harness the power of fireworks as a weapon with which to rule the entire country. When he learned from the court's goat soothsayer (Michelle Yeoh) that "a warrior of black and white" would one day defeat him, Shen assumed she was referring to the giant pandas and had them exterminated to avert the prophecy. Shen's parents were horrified at this atrocity and exiled Shen from Gongmen City, who swore revenge.Two years later, Po (Jack Black) is living his dream as the Dragon Warrior, protecting the Valley of Peace alongside his friends and fellow kung fu masters, the Furious Five, but is told by Master Shifu (Dustin Hoffman) that he has yet to achieve inner peace. While fighting off a pack of wolf bandits who have been stealing refined metal for Lord Shen, Po is distracted by a symbol on the head wolf's (Danny McBride) armor, which causes Po to have a flashback of his mother and allows the wolves to escape. Po asks his goose father, Mr. Ping (James Hong), where he came from, but all Ping can tell him is that he found Po as an infant in a radish crate and adopted him.
Afterward, Shifu receives word that Master Thundering Rhino (Victor Garber), leader of the kung fu council protecting Gongmen City, has been killed by Lord Shen with his newly developed weapon, a cannon, with which he intends to destroy kung fu tradition and conquer China. Po and the Five go to stop him, reaching Gongmen City to find it under the control of Shen's forces. The heroes find two imprisoned council members, Masters Storming Ox (Dennis Haysbert) and Croc (Jean-Claude Van Damme), and ask their help to liberate the city, but both masters cite their helplessness against Shen's weapon and refuse to escape. Po and the Five are then discovered by the wolf leader, who they chase to prevent him from alerting Shen, only to be captured.Upon being brought before Shen in his tower, Po and the Five free themselves and destroy Shen's cannon. However, Po is again distracted by a flashback upon seeing the same symbol as before on Shen's plumage, allowing Shen to escape and destroy the tower with an arsenal of cannons. After escaping, Tigress (Angelina Jolie) confronts Po over his distraction. Po explains that he remembers Shen's presence on the night he was separated from his parents, and wants to question Shen about his past. Though empathetic, Tigress orders him to stay behind for his own safety.Regardless, Po breaks into Shen's cannon factory to confront Shen, inadvertently foiling the Five's attempts to destroy the factory. Shen claims that Po's parents abandoned him before he blasts Po out of the factory and captures the Five. Po is rescued by the Soothsayer, who has been exiled by Shen to the ruined village where Po was born. Guided by the Soothsayer to embrace his past, Po remembers that when he was young his parents had sacrificed themselves to save him from Shen's forces as they killed every panda and burned down the village,his father started fighting a wolf that had been about to attack Po, and orderd Po's mother to run and escape with Po. Po's mother ran into a snowy woods and she hides him in a crate before being subdued. Po finds out his past. At this time Po lifts up a broken door and under it is Po's childhood toy. Realizing that he had lived a happy and fulfilling life despite this tragedy, Po attains inner peace. Po is healed back to health by the Soothsayer and continues his journey to stop Lord Shen.
Po returns to Gongmen City to save the captive Five and prevent Shen's conquest of China. During the ensuing battle (in which Ox and Croc participate after being persuaded by Shifu), Po uses his inner peace to enable a kung fu technique that redirects Shen's cannon fire against his own armada and destroys it. Po then urges Shen to let go of his own past, but Shen refuses (he agrees you can choose your own path, but chooses the path of evil) and attacks Po until Shen inadvertently slashes the ropes holding up his last cannon, which falls and crushes him to death. Victorious, Po returns to the Valley of Peace and reunites with Mr. Ping, lovingly declaring him to be his father. At the same time, Po's biological father (Fred Tatasciore) is shown to be living in a far-off hidden village inhabited by surviving pandas, and senses that his son is alive.
------------------------------------------------------------------------------------------------------------------
Pirates of the Caribbean: On Stranger Tides
Pirates of the Caribbean: On Stranger Tides
is a 2011 adventure fantasy film and the fourth installment in the Pirates of the Caribbean series. It was directed by Rob Marshall, who replaced the resposible for the three previous films, Gore Verbinski, and produced by Jerry Bruckheimer. In the film, which draws inspiration from the novel On Stranger Tides by Tim Powers, Captain Jack Sparrow (Johnny Depp) is joined by Angelica (Penélope Cruz) in his search for the Fountain of Youth, confronting the infamous pirate Blackbeard (Ian McShane). The film was distributed by Walt Disney Pictures, and had its theatrical debut in release dates falling within May 18 and
May 20, 2011
. The release was presented in Disney Digital 3-D and IMAX 3D, as well as in traditional two-dimensional and IMAX formats.
Writers Terry Rossio and Ted Elliott first learned of Powers' novel during the back-to-back production of Dead Man's Chest and At World's End, and considered it a good starting point for a new movie in the series. Pre-production started after the end of the 2007–2008 Writers Guild of America strike, with Johnny Depp collaborating with the writers on the story design. Principal photography rolled for 106 days between June and November 2010, with locations in Hawaii, United Kingdom, Puerto Rico and California, and usage of 3D cameras similar to the ones used in Avatar. Ten companies were involved with the film's visual effects.
On Stranger Tides opened to mixed reviews, with praise to the acting and visuals but criticizing the script-writing and lack of originality. The film has earned over $1 billion worldwide, marking the second film in the Pirates of the Caribbean series and eighth film overall to do so. It broke many box office records upon release, and it stands as the 6th highest-grossing film of all time worldwide.
After a failed attempt to rescue his former first mate, Joshamee Gibbs, (Kevin McNally) in London, England, Captain Jack Sparrow (Johnny Depp) is brought before King George II (Richard Griffiths), who wants Jack to guide an expedition to the Fountain of Youth before the Spanish locate it. Heading the expedition is Jack's old nemesis, Captain Hector Barbossa (Geoffrey Rush), who is now a privateer in service to the British Navy after having lost Jack's ship, the Black Pearl, as well as his leg.Jack escapes, but his father, Captain Teague (Keith Richards), finds him and warns Jack about the Fountain's tests. He also reveals that someone is impersonating Jack. The impostor is Angelica (Penélope Cruz), Jack's former lover and daughter of the ruthless pirate Blackbeard (Ian McShane), who possesses supernatural powers and practices voodoo magic.Jack is taken aboard Blackbeard's ship, the Queen Anne's Revenge, and forced to lead the way to the Fountain and to find two silver chalices that once belonged to Juan Ponce de León, both of which are believed to be aboard his lost ship. The Fountain's water must be drunk simultaneously from the two chalices. The person drinking from the chalice containing a mermaid's tear has his life extended, while the other person dies, his years of life drained from his body. Meanwhile, Gibbs, having memorized and destroyed Sparrow's map, barters with Barbossa to guide him to the Fountain.
Blackbeard wants the Fountain's power to circumvent his predestined fatal encounter with a one-legged man and sets a course for Whitecap Bay. There, he traps a mermaid (Àstrid Bergès-Frisbey) whom Philip Swift (Sam Claflin), a captive missionary, falls in love with and names Syrena. Blackbeard then sends Sparrow to retrieve the chalices from de León's ship.When Sparrow finds the grounded, decaying vessel, Barbossa is waiting inside: the Spanish have already taken the chalices. However, Barbossa only seeks revenge against Blackbeard for capturing the Black Pearl which forced Barbossa to amputate his own leg to escape. He and Jack join forces to defeat Blackbeard, then head to the nearby Spanish camp to steal the chalices. Meanwhile, Syrena, who returns Philip's love, is tricked into shedding a tear, which Blackbeard collects, then leaves her to die while forcing Philip to go with him. Sparrow returns with the chalices and Gibbs, whom he had reunited with while helping Barbossa. Jack negotiates with Blackbeard to return his confiscated magical compass and letting Gibbs go free in exchange for the chalices and his leading them to the Fountain. Blackbeard agrees and Gibbs departs with Jack's compass.At the Fountain, Blackbeard and his crew are attacked by Barbossa, then the Spanish, sent by their king to destroy the Fountain, believing its power is an abomination against God. After an intense battle, Barbossa stabs Blackbeard with a poison-laced sword that Angelica accidentally cuts herself on. Barbossa claims Blackbeard's magical sword, and assuming command, leaves with Blackbeard's crew. Meanwhile, Philip, though mortally wounded, escapes and returns to free Syrena. After finding the chalices that the Spaniards had tossed into deep water, Syrena gives them to Jack, then retrieves the dying Phillip, taking him underwater to save his life.
As both Blackbeard and Angelica lay dying, Blackbeard wants his daughter to sacrifice herself to save him. Angelica willingly agrees, but Jack secretly switches the cups, giving her the one containing Syrena's tear, thus sparing her life and killing Blackbeard. Despite declaring their love, Jack, knowing Angelica may want to avenge her father's death, strands her on an island, intending for a passing ship to pick her up. Meanwhile, Barbossa, who now commands the Queen Anne's Revenge, renounces his ties to the crown and reverts to piracy. Jack finds Gibbs, who used Jack's compass to locate the Revenge and retrieve the Black Pearl, as well as other captured ships that Blackbeard had magically shrunk and bottled. The two head off, hoping to find a way to return the Pearl to her original size.
In a post-credits scene, Angelica, still on the island, finds Blackbeard's voodoo doll of Jack, which has washed ashore.
------------------------------------------------------------------------------------------------------------------
X-Men: First Class
is a 2011 American superhero film directed by Matthew Vaughn and produced by Bryan Singer, based on the characters appearing in Marvel Comics. The fifth installment in the X-Men series, was released on
June 1, 2011
, in the UK and on June 3 in the US, achieving positive reviews and box-office success.
The film acts as a prequel for the X-Men trilogy and is set primarily in 1962 during the Cuban Missile Crisis and focuses on the relationship between Charles Xavier and Magneto and the origin of their groups, the X-Men and the Brotherhood of Mutants. The film stars James McAvoy as Xavier and Michael Fassbender as Magneto; other cast members include Kevin Bacon, January Jones, Rose Byrne, Jennifer Lawrence, Zoë Kravitz, Nicholas Hoult and Lucas Till.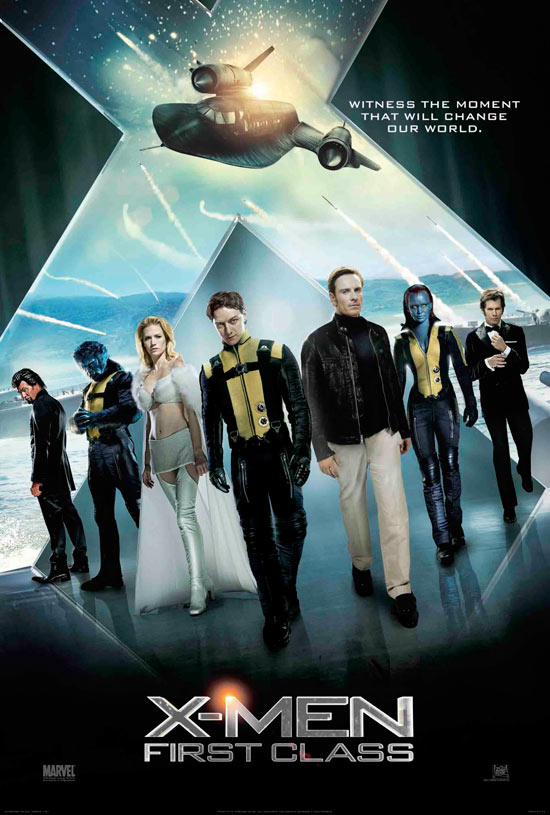 Plot
At a German concentration camp in occupied Poland in 1944, scientist Dr. Schmidt observes young Erik Lensherr bend a metal gate with his mind when the child is separated from his parents. In his office, Schmidt orders Lensherr to similarly move a coin on a desk, and kills his mother when the child cannot. In his grief and anger, Lensherr's magnetic power manifests, killing two guards and destroying the room, to Schmidt's delight.
At a mansion in Westchester County, New York, young telepath Charles Xavier meets homeless young shape-shifter Raven. Overjoyed to meet someone else "different" like him, he invites her to live with his family.
In 1962, an adult Lensherr is tracking down Schmidt to take revenge. In England, Oxford University graduate Xavier is publishing his thesis on mutation; Raven, now his foster sister, lives with him. In Las Vegas, CIA agent Moira MacTaggert follows US Army Colonel Hendry into the Hellfire Club, where she sees Sebastian Shaw, Emma Frost, and Azazel. After Shaw threatens Hendry, Azazel disappears with the officer; moments later Hendry is in the War Room, advocating that the US install nuclear missiles in Turkey. Shaw later kills Hendry, revealing himself as Schmidt and demonstrating the energy-absorbing mutant power that has de-aged him.
MacTaggert, seeking Xavier's advice on mutation, convinces him and Raven to join her at the CIA, where they convince Director McCone that mutants exist and Shaw is a threat. The unnamed "Man in Black Suit", another CIA executive, sponsors the mutants and invites them to the CIA's secret "Division X" facility. Xavier locates Shaw, arriving in time to stop Lensherr, who had attacked Shaw, from drowning as Shaw escapes. Xavier brings Lensherr to Division X, where they meet young scientist Hank McCoy, a prehensile-footed mutant whom Xavier inadvertently outs as a mutant. McCoy, developing a bond with Raven, promises her he will find a way to normalize their appearance. Xavier uses a mutant-locating device, Cerebro, to find and recruit mutants for training to stop Shaw. He and Lensherr find stripper Angel Salvadore; taxi driver Armando Muñoz, who takes the code name Darwin; Army prisoner Alex Summers, who calls himself Havok; and Sean Cassidy, who dubs himself Banshee. Raven takes the name Mystique. She also dubs Charles "Prof. X" and Erik "Magneto."
When Frost meets with a Soviet general in the USSR, Xavier and Lensherr capture her. Meanwhile, Azazel, Riptide and Shaw attack Division X, killing everyone but the young mutants and offering them the chance to join him. Angel accepts; when Darwin tries to fight back, Shaw kills him. With the facility destroyed, Xavier takes the mutants to train at his family mansion. McCoy devises protective uniforms and a stealth jet. In Moscow, Shaw compels the general to have the Soviet Union install nuclear missiles in Cuba.During the Cuban Missile Crisis, US President John F. Kennedy institutes a blockade to stop a Soviet freighter from moving the nuclear missiles to Cuba. Shaw, wearing a helmet that foils Xavier's telepathy, accompanies the Soviet fleet to ensure the missiles arrive, trying to trigger World War III and achieve mutant ascendency. Raven goes to seduce Lensherr, who convinces her to embrace her nature as a mutant. Later, McCoy offers Raven his cure for her appearance, but she refuses. The cure backfires on McCoy, rendering him a leonine beast. Though ashamed of his new appearance, he pilots the mutants and MacTaggert to the blockade line. In an ensuing battle with Shaw, Lensherr takes the helmet for himself, allowing Xavier to immobilize Shaw. Despite Xavier's objections, Lensherr kills Shaw by forcing the Nazi coin through his brain, thus avenging his murdered mother, and displays his body to the mutants.
Fearing the mutants, the fleets fire their missiles at them. In a struggle, Xavier keeps Lensherr from destroying the fleets with the missiles, but when MacTaggert fires at Lensherr, a deflected bullet hits Xavier in the spine. Lensherr, remorseful, leaves with Mystique, Angel, Riptide and Azazel. A wheelchair-bound Xavier and the mutants return to the mansion, where he intends to open a school. MacTaggert promises never to reveal his location and they kiss; at the CIA later, she says she has no clear memory of recent events. Lensherr, in a uniform with the helmet and calling himself Magneto, breaks Frost from confinement.
------------------------------------------------------------------------------------------------------------------
Harry Potter and the Deathly Hallows
Harry Potter and the Deathly Hallows
–
Part 1 is a 2010 fantasy film directed by David Yates and the first of two films based on the novel of the same name by J. K. Rowling. It is the seventh instalment in the Harry Potter film series, written by Steve Kloves and produced by David Heyman, David Barron and Rowling. The story follows Harry Potter on a quest to find and destroy Lord Voldemort's secret to immortality – the Horcruxes. The film stars Daniel Radcliffe as Harry Potter, alongside Rupert Grint and Emma Watson as Harry's best friends Ron Weasley and Hermione Granger. It is the sequel to Harry Potter and the Half-Blood Prince and is followed by the concluding film, Harry Potter and the Deathly Hallows – Part 2.
Principal photography began on 19 February 2009 and was completed on 12 June 2010.Part 1 was released in 2D cinemas and IMAX formats worldwide on 19 November 2010.
In its worldwide opening weekend, Part 1 grossed $330 million, the third highest in the series, and the highest opening of 2010, as well as the eighth-highest of all-time. With a worldwide gross of $955 million, Part 1 is the third-highest grossing film of 2010, behind Toy Story 3 and Alice in Wonderland. It is the third highest grossing Harry Potter film in terms of worldwide totals behind Deathly Hallows - Part 2 and Philosopher's Stone, the 13th highest-grossing film of all-time, and the second film in the series to reach $950 million worldwide. The film received two nominations at the 83rd Academy Awards: Best Visual Effects and Best Art Direction.
Minister Rufus Scrimgeour addresses the wizarding media stating that the Ministry of Magic will remain strong as Lord Voldemort gains power throughout the Wizarding and Muggle worlds. Severus Snape arrives at Malfoy Manor to inform Lord Voldemort and his Death Eaters of Harry's departure from No. 4 Privet Drive. Voldemort commandeers Lucius Malfoy's wand, as Voldemort's own wand cannot be used to kill Harry. Meanwhile, the Order of the Phoenix arrive at Privet Drive and escort Harry to safety using Polyjuice Potion to create six decoy Harrys. During their flight to the Burrow they are ambushed by Death Eaters, resulting in the deaths of Mad-Eye Moody and Hedwig. Voldemort attempts to kill Harry with Malfoy's wand, but fails. At the Burrow, Harry has a vision of Ollivander being tormented by Voldemort, who claims that the wand-maker had lied to him by informing him of the only way to kill Harry: obtaining another's wand.
Scrimgeour arrives at the Burrow and distributes items from Albus Dumbledore's will to Ron, Hermione and Harry. Ron receives Dumbledore's Deluminator; Hermione, The Tales of Beedle the Bard; and Harry is given the Golden Snitch. It's revealed that Harry was also willed to receive the Sword of Godric Gryffindor, however Scrimgeour states that the sword is an important historical artifact and is not eligible to be given away.
Later, the wedding of Bill Weasley and Fleur Delacour is disrupted by Death Eaters, who have infiltrated the Ministry and are using its authority to persecute Muggle-born witches and wizards. Before the commotion, Harry learns of Bathilda Bagshot, who currently lives in Godric's Hollow and may have the Sword of Godric Gryffindor. The trio disapparate to London and find sanctuary at No. 12 Grimmauld Place. There they discover that the "R.A.B." from the false Horcrux locket is Regulus Arcturus Black, the younger brother of Sirius Black. From Kreacher, the Black's house-elf, they learn that Mundungus Fletcher stole the real locket. Kreacher and Dobby apprehend Fletcher, who reveals that the locket is in the possession of Dolores Umbridge. Under the disguise of Polyjuice Potion, the trio infiltrate the Ministry and successfully retrieve the locket, escaping into the wilderness.
Unable to destroy the Horcrux, they take turns wearing it in order to dilute its negative psychological effects. Harry sees a vision of Voldemort interrogating Gregorovitch, a renowned wand-maker who claims that a teenage boy had once stolen the legendary Elder Wand from his shop. Voldemort then begins a search for the thief. While Ron wears the locket, he is overcome with the suspicion that Harry and Hermione are forming a romantic relationship. As a result, under the mistaken assumption that Hermione has rejected him, he abandons them in anger. Harry and Hermione then visit Godric's Hollow where they seek Bathilda Bagshot, the historian who may have the Sword of Gryffindor, which they believe will destroy Horcruxes. However, they are instead cornered by Voldemort's snake, Nagini, and barely escape. Harry's wand is broken. Hermione identifies the mysterious thief seen in Harry's vision as Gellert Grindelwald.
When evening falls, Harry sees a doe patronus which leads him to a frozen pond. Gryffindor's sword is beneath the ice. Harry enters the pool through the ice to reach the sword. The locket around his neck attempts to strangle him, but Ron returns to rescue him. Ron eventually overcomes the locket's power, smashing it with the sword.
The trio then visit Xenophilius Lovegood to learn about a symbol seen several times on their journey. They learn that the symbol represents the quest for the Deathly Hallows: the Elder Wand, the Resurrection Stone and the Cloak of Invisibility. Lovegood betrays them to the Death Eaters in an effort to have his kidnapped daughter returned. Harry envisions Voldemort learning from Grindelwald that the Elder Wand lies with Dumbledore. The trio are captured and taken to Malfoy Manor. Bellatrix Lestrange imprisons Harry and Ron in a cellar in which they discover Luna, Ollivander, and Griphook the goblin. She tortures Hermione for information on how they found the sword, which was supposedly in her vault at Gringotts. After Dobby apparates to save them, a short battle ensues, and Harry duels with Draco and defeats him. Dobby is killed by Bellatrix as the protagonists escape. Voldemort breaks into Dumbledore's tomb and takes the Elder Wand.
------------------------------------------------------------------------------------------------------------------
Transformers: Dark of the Moon
Transformers: Dark of the Moon
is a 2011 American science fiction-action film. It is the third film of the live-action Transformers film series, directed by Michael Bay and produced by Steven Spielberg. It is the sequel to Transformers and Transformers: Revenge of the Fallen and was released on June 29, 2011. The film was released in both 2D and 3D formats, including IMAX 3D, and featured Dolby Surround 7.1 sound.
Shia LaBeouf, Josh Duhamel, Tyrese Gibson and John Turturro reprise their starring roles, also Peter Cullen returned as the voice of Optimus Prime and Hugo Weaving returned as the voice of Megatron. Kevin Dunn, and Julie White have also reprised their roles as Sam Witwicky's parents. Ehren Kruger, who collaborated in the writing of the second film, was again involved in the writing.
Despite having been initially confirmed for the film, and with the film already into principal photography, it was announced that Megan Fox would not be reprising her role from the previous two films. With Fox's character (Mikaela Banes) being dropped, Sam was assigned a new love interest, portrayed by English model Rosie Huntington-Whiteley. Also, Roberto Orci and Alex Kurtzman, having written the last two films, did not return for this installment in the series,which Orci had earlier somewhat anticipated, fearing the duo would "risk getting stale".
Bay has stated this would be his last installment in the series.In May 2011, it was announced that Paramount Pictures had bumped Transformers: Dark of the Moon's release date of
July 1, 2011
, two days earlier, June 29, in order to receive an early response to footage.The film was then released one day earlier, June 28, in select 3D and IMAX theatres, nationwide.The film is currently the 3rd highest grossing film of 2011 (behind Pirates of the Carribean: On Stranger Tides and Harry Potter and the Deathly Hallows - Part 2) internationally and is currently the highest grossing film of 2011 domestically. The film also currently stands as the 10th highest-grossing film of all-time and highest-grossing film in the Transformers series.
Plot
In 1961, the Ark, a Cybertronian spacecraft carrying an invention capable of ending the war between the Autobots and Decepticons, crash lands on the far side of Earth's Moon. The crash is detected on Earth by NASA, and President John F. Kennedy authorizes a mission to put a man on the Moon as a cover for investigating the craft. In 1969, the crew of Apollo 11 lands on the Moon to explore the craft.
In the present, the Autobots assist the United States military in preventing conflicts around the globe. During a mission to Chernobyl to investigate suspected alien technology, Optimus Prime finds a fuel cell from the Ark, discovering it had survived its journey from Cybertron. The Autobots are attacked by Shockwave who manages to escape. After learning of the top-secret mission to the Moon, the Autobots travel there to explore the Ark. There they discover a comatose Sentinel Prime – Optimus' predecessor as leader of the Autobots – and his creation, the Pillars, a means of establishing a Space Bridge between two points to teleport matter. After returning to Earth, Optimus uses the energy of his Matrix of Leadership to revive Sentinel Prime.
Meanwhile, Sam Witwicky is frustrated that he is unable to work with the Autobots and failing to find a job. He also becomes envious of the close relationship between his new girlfriend, Carly Spencer, and her boss Dylan Gould. After finding work, Sam is provided information by his eccentric co-worker Jerry Wang about the Ark, before Jerry is assassinated by Laserbeak – a condor-like Decepticon. Sam contacts the now-independently wealthy Seymour Simmons, and together they realize that Megatron and the Decepticons are murdering people connected to the American and Russian space missions to the Ark. They locate two surviving Russian cosmonauts who reveal satellite photos of hundreds of Pillars being stockpiled on the Moon. Sam realizes that the Decepticons raided the Ark long before the Autobots mission and intentionally left Sentinel and five Pillars behind to lure the Autobots into a trap - Sentinel being the key to activating the Pillars and the Decepticons lacking the means to revive him. The Autobots rush to return Sentinel to their base for protection but Sentinel betrays them and kills Ironhide, revealing he had made a deal with Megatron to ensure the survival of the Cybertronian race.
Sentinel uses the Pillars to transport hundreds of concealed Decepticons from the Moon to Earth and Carly is captured by Gould, who is revealed to be in the service of the Decepticons. The Autobots are exiled from Earth at the demand of the Decepticons to avoid war but as their ship leaves Earth it is destroyed by Starscream, seemingly killing the Autobots. The Decepticons, led by Megatron and Sentinel, seize Chicago as their agents place Pillars around the world. Gould reveals to Carly that the Decepticons plan to transport their homeworld of Cybertron to the Milky Way, then to enslave Humanity and use the resources of the Earth to rebuild their world. Sam teams with Robert Epps to go into Chicago to save Carly, but they are nearly killed by Decepticon forces before the Autobots intervene; revealing they concealed themselves during the launch of their ship to convince the Decepticons they were destroyed.
Working together, the Autobots and Human soldiers manage to rescue Carly and destroy Soundwave, Barricade, Starscream and Shockwave, with Optimus using Shockwave's arm-cannon to blast the Control Pillar, disabling the Space Bridge. Sam confronts Gould as he reactivates the Control Pillar. After a brief fistfight, Sam knocks Gould into the Pillar, electrocuting him. Bumblebee and Ratchet arrive and destroy the Control Pillar, permanently disabling the Bridge and causing the partially transported Cybertron to implode. Optimus and Sentinel fight while Carly convinces Megatron that he will be replaced as leader of the Decepticons by Sentinel. Sentinel severs Optimus's right arm and prepares to execute him when Megatron intervenes, incapacitating Sentinel. Optimus attacks Megatron, decapitating and killing him. Sentinel pleads for his life but Optimus executes him for betraying his own principles. With the Decepticons defeated, Carly and Sam are reunited and the Autobots accept that with Cybertron gone, Earth is now their home.
------------------------------------------------------------------------------------------------------------------
Captain America: The First Avenger
Captain America: The First Avenger
is a
2011
American superhero film based on the Marvel Comics character Captain America. It is the fifth installment of the Marvel Cinematic Universe. The film was directed by Joe Johnston, written by Christopher Markus and Stephen McFeely,and stars Chris Evans,Tommy Lee Jones, Hugo Weaving, Hayley Atwell, Sebastian Stan, Dominic Cooper, Neal McDonough, Derek Luke, and Stanley Tucci. The film tells the story of Steve Rogers, a sickly man from Brooklyn who is transformed into super soldier Captain America to help the war effort. However, Captain America must stop Red Skull, Adolf Hitler's ruthless head of weaponry and leader of a terrorist organization, who intends to use a mysterious tesseract energy-source for world domination.
Captain America: The First Avenger
began as a concept in 1997, and was scheduled to be distributed by Artisan Entertainment. However, a lawsuit, not settled until September 2003, disrupted the project. After Marvel Studios received a grant from Merrill Lynch, the project was set up at Paramount Pictures. Directors Jon Favreau and Louis Leterrier were interested in directing the project before Johnston was approached in 2008. The principal characters were cast between March 2010, and June 2010. Production of Captain America: The First Avenger began in June 2010, and filming took place in London, Manchester and Liverpool in the United Kingdom, and Los Angeles in the United States. The film was converted to 3D in post-production.
Captain America: The First Avenger
premiered in Hollywood on July 19, 2011, and was released in the United States on
July 22, 2011
.
The film became a critical success, "Certified Fresh" by the review-aggregator Rotten Tomatoes.
In the present day, scientists in the Arctic uncover a mysterious object with a red, white and blue motif. In March 1942, Nazi officer Johann Schmidt (Hugo Weaving) and his men invade Tønsberg, Norway, to steal a mysterious tesseract possessing untold powers. In New York City, Steve Rogers (Chris Evans) is rejected for World War II military duty due to various health and physical issues. While attending an exhibition of future technologies with his friend Bucky Barnes (Sebastian Stan), Rogers again attempts to enlist. Having overheard Rogers' conversation with Barnes about wanting to help in the war, Dr. Abraham Erskine (Stanley Tucci) allows Rogers to enlist. Rogers is recruited as part of a "super-soldier" experiment under Erskine, Colonel Chester Phillips (Tommy Lee Jones) and Peggy Carter (Hayley Atwell). Phillips is unconvinced of Erskine's claims that Rogers is the right person for the procedure but relents after seeing Rogers commit an act of self-sacrificing bravery. The night before the treatment, Erskine reveals to Rogers that Schmidt underwent an imperfect version of the treatment, becoming super-human but suffering side-effects.
In Europe, Schmidt and Dr. Arnim Zola (Toby Jones) successfully harness the energies of the tesseract, intending to use the power to fuel Zola's inventions. Schmidt, having discovered Erskine's location, dispatches an assassin to kill him. In America, Erskine subjects Rogers to the super-soldier treatment, injecting him with a special serum and dosing him with "vita-rays". After Rogers emerges from the experiment taller and muscular, one of the attendees shoots and kills Erskine, revealing himself as Schmidt's assassin Heinz Kruger (Richard Armitage). Rogers pursues and captures Kruger but the assassin commits suicide via cyanide capsule before he can be interrogated.
With Erskine's death the super-soldier formula is lost. U.S. Senator Brandt (Michael Brandon) has Rogers tour the nation in a colorful costume as "Captain America" to promote war bonds rather than be confined to a lab while scientists attempt to rediscover Erskine's formula. In Italy 1943, while touring to active servicemen, Rogers learns that Barnes' unit was lost in battle against Schmidt's forces. Refusing to believe Barnes is dead, Rogers mounts a solo rescue attempt with Carter and Howard Stark (Dominic Cooper) flying him behind enemy lines. Rogers infiltrates the fortress belonging to Schmidt's HYDRA organization, freeing Barnes and the other captured soldiers. Rogers confronts Schmidt who reveals his face to be a mask, removing it to display the red-colored, skull-like face that earned him the sobriquet the Red Skull. Schmidt escapes and Rogers returns to base with the freed soldiers.
Rogers recruits Barnes, Dum Dum Dugan (Neal McDonough), Gabe Jones (Derek Luke), Jim Morita (Kenneth Choi), James Montgomery Falsworth (J. J. Feild), and Jacques Dernier (Bruno Ricci) to attack the other known bases belonging to Hydra. Stark provides Rogers with a new outfit and a new, circular shield made of vibranium, which negates large amounts of damage by absorbing vibrations. Rogers and his team attack and destroy all of the known bases. The team later attacks a train carrying Zola. During the assault Zola is captured but Barnes falls from the train and is lost. Using information gathered from Zola, Rogers leads an attack on Schmidt's final base to stop him using his powerful weapons against American cities. Rogers clambers aboard Schmidt's jet before it takes off, and during the fight with Schmidt, Rogers damages the tesseract's container. Schmidt physically handles the tesseract, causing him to dissolve in a bright light. The tesseract falls to the floor of the plane, melting through the surface and falling to Earth.
Seeing no way to safely land the plane without risking the onboard weapons detonating, Rogers crashes the plane in the Arctic. Stark later recovers the tesseract from the floor of the ocean but the aircraft and Rogers remain undiscovered. Rogers awakens in a hospital room. Deducing something is wrong, he flees outside into what is revealed to be present day New York City. There Nick Fury (Samuel L. Jackson) informs him he has been "asleep" for nearly 70 years.
In a post-credits scene, Fury approaches Rogers and tells him that he has a mission for him.
------------------------------------------------------------------------------------------------------------------
Spy Kids: All the Time in the World
Spy Kids: All the Time in the World
(often referred to as Spy Kids 4D, also known as Spy Kids 4: All the Time in the World and Spy Kids 4D: All the Time in the World) is an upcoming American action-adventure and mystery family film directed by Robert Rodriguez and the fourth installment in the Spy Kids series. It is currently set to be released on
August 19, 2011
. Filming began on October 27, 2010.It will be the first of the series that uses "Aromascope" that allows people to smell odors and aromas from the film via scratch & sniff cards (reminiscent of the infamous 1960s Smell-O-Vision)last used theatrically in the 2003 animated film Rugrats Go Wild as an apparent homage to John Waters's 1981 comedy Polyester, despite his objections.
Plot
The film revolves around twins named Rebecca and Cecil (Rowan Blanchard and Mason Cook), who have no respect for their stepmom, Marissa Cortez Wilson (Jessica Alba), the wife of spy-hunting reporter Wilbur Wilson (Joel McHale). Unbeknown to the twins, Marissa is a retired agent for the OSS (initialism for Organization of Super Spies) which has since become the world's top spy agency and former HQ of the now-defunct Spy Kids division.
When Earth is threatened by a Nazi organization led by a hyperion mastermind known as "the Timekeeper" (Jeremy Piven), she is contacted and called back into action by the OSS, leaving a red-sapphire necklace (the key to the Timekeeper's plan) with Rebecca. However, with the end of the world pending and the necklace stolen by the Timekeeper, both Rebecca and Cecil find that they have no choice but take part in the battle, help Marissa, and put their anger against her aside to rescue people's lives that are at stake while enlisting the help of the previous Spy Kids Carmen and Juni Cortez (Alexa Vega and Daryl Sabara).
------------------------------------------------------------------------------------------------------------------
Mission: Impossible – Ghost Protocol
Mission: Impossible – Ghost Protocol
(also known as Mission: Impossible IV) is an upcoming action film, and the fourth film in the Mission: Impossible series. It stars
Tom Cruise
,
who reprises his role of IMF Agent Ethan Hunt, and is director Brad Bird's first live-action film.Ghost Protocol was written by Christopher McQuarrie, André Nemec and Josh Appelbaum, and produced by Cruise, J.J. Abrams (director of the third film) and Bryan Burk.
The film will be released in the United States and Canada on
December 21, 2011
.It is the first Mission: Impossible film not to be produced by Paula Wagner, and the first that will be released
in IMAX theatres.
When a terrorist bombing destroys the Kremlin, the United States government initiates a black ops "ghost protocol" and disavows the entire Impossible Mission Force. Ethan Hunt and his team are to be blamed for the attack, but are allowed to escape as part of a plan to enable them to operate in the dark, outside of their agency. However, Hunt is warned that if any member of his team is captured during their mission, they will be charged as terrorists planning to incite global nuclear war. Ethan is then forced to work with fellow ex-IMF agent Brandt, who knows more about Hunt and his past than even H
unt himself.