Rowan Atkinson Crash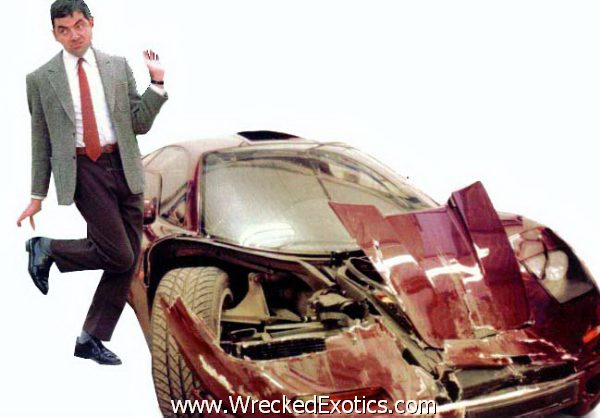 ACTOR Rowan Atkinson has left hospital in a wheelchair after crashing his high-performance sports car.The 56-year-old Blackadder and Mr Bean star was driving his McLaren F1 supercar when it reportedly spun around several times, ran into a tree and a lamppost, and caught fire.He is believed to have suffered a shoulder injury in the accident on the A605 in Cambridgeshire.A spokesman for Peterborough City Hospital said Atkinson had been admitted on Thursday night. He left via a back door flanked by four security guards at about 3pm yesterday but did not comment.Security guards escorting the wheelchair-bound actor tussled with a cameraman as he left in a Harley Street private ambulance.His agent, Peter Bennett-Jones, said Atkinson had suffered a painful fractured shoulder blade.Mr Bennett-Jones said: "I haven't spoken to him yet, but I understand he has a fractured shoulder blade, which is very painful and why he needed to stay in overnight."Firefighters also confirmed the actor's McLaren F1 had been on fire after it span off the road.A spokesman for Cambridgeshire Fire and Rescue Service said: ''There was a small fire in the engine, which is at the back of the vehicle, but it was quickly extinguished with one hose reel.''Photographs of the 240mph car being loaded on to the back of a tow truck showed serious rear damage to the expensive carbon-fibre bodywork.McLaren are set to take the vehicle to the company headquarters in Woking, Surrey, to assess the damage.A spokesman for McLaren said: "We are discussing with his team about bringing it back to assess the damage and look at repairing it."It has a carbon-fibre chassis, which is more repairable than normal cars."He added: "Our first concern was Rowan, and we're pleased that he is stable."We have a responsible team at McLaren and we keep in touch with F1 owners around the world. The first thing we do is make sure the car is safe. We will then investigate it and any work that is required we will be happy to undertake."Atkinson, a well-known car enthusiast, recently topped the leader board in the "Star in a Reasonably Priced Car" contest on the BBC's Top Gear.
Rowan Sebastian Atkinson
(born 6 January 1955) is an English comedian, screenwriter, and actor.Atkinson, the youngest of four brothers, was born in Consett, County Durham, England. His parents were Eric Atkinson, a farmer and company director, and Ella May (née Bainbridge), who married on 29 June 1945. His three older brothers were Paul, who died as an infant, Rodney, a Eurosceptic economist who narrowly lost the United Kingdom Independence Party leadership election in 2000, and Rupert. Atkinson was brought up Anglican, and was educated at Durham Choristers School, St. Bees School, and Newcastle University. In 1975, he continued for the degree of MSc in Electrical Engineering at The Queen's College, Oxford, the same college his father matriculated at in 1935, which made Atkinson an Honorary Fellow in 2006. First achieving notice at the Edinburgh Festival Fringe in 1976, while at Oxford, he also acted and performed early sketches for the Oxford University Dramatic Society (OUDS), the Oxford Revue and the Experimental Theatre Club (ETC), meeting writer Richard Curtis and composer Howard Goodall, with whom he would continue to collaborate during his career.
Atkinson's film career began in 1983 with a supporting part in the 'unofficial' James Bond movie Never Say Never Again and a leading role in Dead on Time with Nigel Hawthorne. He appeared in former Not the Nine O'Clock News co-star Mel Smith's directorial debut The Tall Guy in 1989. He also appeared alongside Anjelica Huston and Mai Zetterling in Roald Dahl's The Witches in 1990. In 1993 he played the part of Dexter Hayman in Hot Shots! Part Deux, a parody of Rambo III, starring Charlie Sheen.Atkinson gained further recognition with his turn as a verbally bumbling vicar in the 1994 hit Four Weddings and a Funeral. That same year he was featured in Walt Disney's The Lion King as Zazu the Red-billed Hornbill. Atkinson continued to appear in supporting roles in successful comedies, including Rat Race (2001), Scooby-Doo (2002), and Love Actually (2003).In 2005, he acted in the crime/comedy Keeping Mum, which also starred Kristin Scott Thomas, Maggie Smith and Patrick Swayze.In addition to his supporting roles, Atkinson has also had success as a leading man. His television character Mr. Bean debuted on the big screen in 1997 with Bean to international success. A sequel, Mr. Bean's Holiday, was released in March 2007 and may be the last time he plays the character. He has also starred in the James Bond parody Johnny English in 2003. Its sequel, Johnny English Reborn will be released in 2011.Best known for his use of physical comedy in his trademark character of Mr. Bean, Atkinson's other characters rely more heavily on language. Atkinson often plays authority figures (especially priests or vicars) speaking absurd lines with a completely deadpan delivery.One of his better-known trademark comic devices is over-articulation of the "B" sound, such as his pronunciation of "Bob" in a Blackadder episode. Atkinson suffers from stuttering,and the over-articulation is a technique to overcome problematic consonants.Atkinson's often visually based style, which has been compared to Buster Keaton, sets him apart from most modern television and film comedies, which rely heavily on dialogue, as well as stand-up comedy which is mostly based on monologues. This talent for visual comedy has led to Atkinson being called "the man with the rubber face": comedic reference was made to this in an episode of Blackadder the Third, in which Baldrick (Tony Robinson) refers to his master, Mr. E. Blackadder, as a "lazy, big nosed, rubber-faced bastard".
Atkinson first met Sunetra Sastry in the 1980s, who was working as a make-up artist with the BBC.Sastry is of mixed descent, being the daughter of an Indian father and a British mother.The couple married at the Russian Tea Room in New York City in 1990. They have two children and live in Oundle, Northamptonshire as well as Ipsden, Oxfordshire and Highbury, London. In October 2010, his Blackadder co-star Stephen Fry confessed on The Rob Brydon Show that he had contemplated asking Sastry out (she was a make-up artist on the series), but discovered she was going on a date with Atkinson and kept quiet. Fry was best man at Atkinson's wedding in 1990. Atkinson was formerly in a relationship with actress Leslie Ash.
Filmography
1979 The Secret Policeman's Ball
1981 Fundamental Frolics
1982 The Secret Policeman's Other Ball
1983 Dead on Time
1983 Never Say Never Again
1989 The Appointments of Dennis Jennings
1989 The Tall Guy
1990 The Witches
1991 The Driven Man
1993 Hot Shots! Part Deux
1994 Four Weddings and a Funeral
1994 The Lion King
1997 Bean: The Ultimate Disaster Movie
2000 Maybe Baby
2001 Rat Race
2002 Scooby-Doo
2003 Johnny English
2003 Love Actually
2005 Keeping Mum
2007 Mr. Bean's Holiday
2011 Johnny English Reborn

Atkinson, who also played Blackadder in the BBC comedy series, is well known as a car enthusiast and has admitted he "derives pleasure from anything four-wheeled, from a go-kart to a Bentley".He produced a documentary about his love of cars called The Driven Man and has raced a 1950s MK7 Jaguar and a 1986 Aston Martin V8 Vantage Zagato competitively.
With an estimated wealth of £100million he is able to indulge his passion, owning a collection of rare cars including a £125,000 Aston Martin Virage, a vintage Rolls Royce and an old Morris Traveller.In 1997 he paid £650,000 for the McLaren F1 – then the world's fastest and most expensive car – to celebrate the success of the Mr Bean movie. Today, F1s change hands for around £2million. A delivery mileage model sold at auction for £2.53million in 2008.
Atkinson recently topped the leader board for Star in a Reasonably Priced Car on the BBC's Top Gear and told presenter Jeremy Clarkson of his pride in the McLaren.
Star in a Reasonably Priced Car: Rowan Atkinson - Top Gear - BBC Two