The alleged altercation between Chris Brown and girlfriend Rihanna remains unconfirmed by either camp. But details are leaking from police sources which describe her face as battered with severe bruises and a black eye. They took pictures and say that the images are "horrific." Celebrity site TMZ reports from a source inside the police department.
There are "major contusions" in multiple locations on her model face. She had a split-lip and a bloody nose while there are bite marks on multiple locations on her body. She reportedly told police at the scene that she was beat-up by boyfriend Chris Brown with his fists.
The San Jose Mercury News reports that the bruising on her face look like an "MMA fighter." The swelling is apparently so great that it look like "devils horns" are growing from the bruises above her eyes. You can read more including some specious rumors at Think Fashion.
Rihanna photo of her beaten up face by Chris Brown are fake. TMZ was able to discover the true orgin of the picture and found out that it was photoshopped. What a terrible thing to do but eh…are we surprised?
The picture is based on an earlier shot, with some half decent photoshopping.
As far as we know, Rihanna is still in hiding, and hasn't been seen since checking herself out of hospital following her beating by Chris Brown.
If any legit photos do emerge, stay tuned, we'll have them up. In the mean time you can keep up with all the latest Rihanna Chris Brown news here.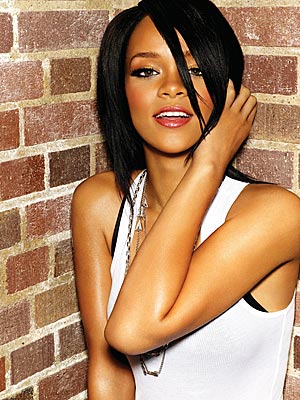 Robyn Rihanna Fenty
(born February 20, 1988), better known as simply
Rihanna
, is an R&B recording artist.Born in Saint Michael, Barbados, Rihanna moved to the United States at the age of 16 to pursue a recording career under the guidance of record producer Evan Rogers. She subsequently signed a contract with Def Jam Recordings after auditioning for then-label head Jay-Z.
Rihanna's tattoos have drawn much media attention. Her tattoos include a music note tattoo on her ankle, a Pisces sign behind her right ear,a Sanskrit prayer going down her hip, a star in her left ear,the word love on her left middle finger,an Arabic phrase meaning "
Freedom in Christ
" on her ribcage area,a trail of stars going down the back of her neck,a skull with a pink hair bow, the phrase "
shhh...
" on her right index finger,the date 11.4.86 in Roman numerals on top of her left shoulder,a henna-style dragon claw including hibiscus flowers,a handgun under her right armpit, a six-word phrase on her chest, and the phrase "
rebelle fleur
" on her neck, said to mean "rebel/rebellious flower" in French.Her gun tattoo was planned to be just below her shoulders but was ultimately located on her ribcage.In answer to criticism for her violence-themed tattoo, Keith "
Bang Bang
" McCurdy, her tattoo artist, was quick to explain his opinion that the image simply "
represents strength and power
".Her thirteenth tattoo which she had was on her chest and reads, "
Never a failure, always a lesson
". She had it tattoed backwards, McCurdy says, because she wanted to be able to read it in the mirror. When he asked why she wanted it, she said that it was her "
motto in life for everything
".
Discography


Music of the Sun (2005)
A Girl Like Me (2006)
Good Girl Gone Bad (2007)
Rated R (2009)
Loud (2010)

Rihanna has sold more than 20 million albums and 60 million singles which makes her one of the best selling artists of all time. She is the youngest artist in Billboard charts history to achieved ten number-one singles on the Hot 100. As of March 2010, Rihanna has sold approximately 5.4 million album units and over 33,7 million digital singles in the United States.Billboard named Rihanna the Digital Songs Artist of the 2000s decade,and ranked her as the 17th Artist of the 2000s decade.She has received several accolades, including the 2007 World Music Awards for World's Best-Selling Pop Female Artist and Female Entertainer of the Year, and the 2011 Brit Award for Best International Female Solo Artist.She has also amassed a total of four Grammy Awards, four American Music Awards, and eighteen Billboard Music Awards.
Rihanna Fashion Style